Wednesday, August 30th, 2006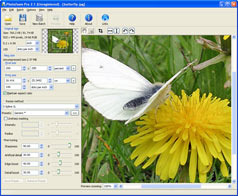 Imagine you need to enlarge a digital picture – say, if you want to make a large print from a 3 megapixel digital file. Common methods (like those provided in PhotoShop) do not bring high-quality results as usually there is unwanted blurriness and stairstepping. PhotoZoom Pro 2 comes with the new S-Spline XL interpolation algorithm that surpasses existing methods in quality.
Actually, the program gives you the choice of 11 enlargement methods. Other methods are included for the user to have an opportunity to compare the enlargement quality. The software is rather pricey, but offers professional quality results. Read the full review.